For in-demand experts, speakers, and consultants who want to

outsource their course.
➽

You've got the goods, and you know it.
➽

You deliver results. Consistently.
➽

And you're ready to increase revenue…
You want a world-class program that delivers results... without having to do the work required to build one. We got you.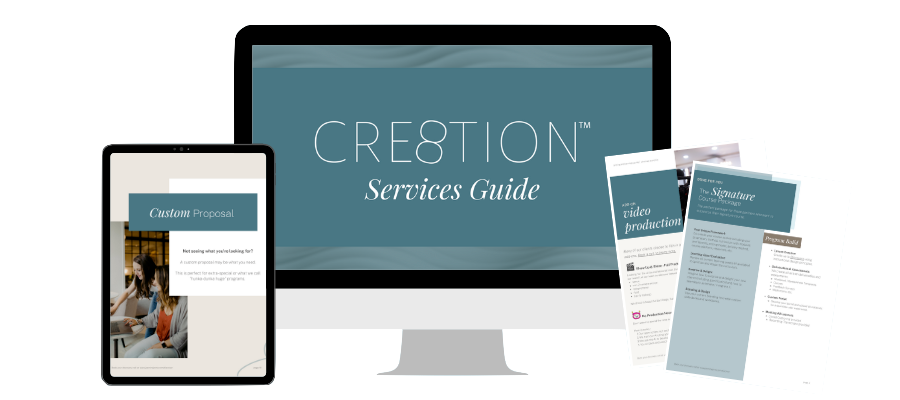 I'm in. Tell me how to get started!
READY TO PARTNER WITH US ON BUILDING YOUR WORLD-CLASS COURSE?
Then boomshakala, let's go!
Grab our Services Guide below. 
Let me guess...
You know you NEED to build or revamp your program… and you WANT to do it the right way, the smart way, so you don't have to do it again…
But you also know that most courses require…
100+ hours of time

At least 3 team members (graphic designer, video editor, and admin)

6 months to complete from beginning to end 
And great programs require…
Instructional design

Resources to meet students with different learning styles and on different levels

A customized online portal
So, here's the deal, hot pants.
I'm betting you're successful because of how much you truly care for your c lients, your capacity to solve problems, pivot when necessary, and just freaking do the work.   You know you need a world-class leveraged offer, and you want…
To do it right - the first time

Speed, because you're ready to (re-)launch

Your students to get even deeper transformations… without your 1:1 time

To shine your sterling reputation with a program that is as pro as you are

To work with experts that will fill in the gaps because you "you don't know what you don't know"

Someone to organize and edit all of that knowledge in your head into a binge-worthy course 
At a recent mastermind, a digital marketer asked us, 
"So what do you charge for that? 
Like $100K?!"
Because #IYKYK…
building an exceptional course is a LOT of work.
SO HERE'S WHY WE DO IT...
We're here to keep your program
out of the course 💀graveyard.
Lurking in the depths of your students' inbox.
Only to be opened once or twice.
Where all the other mediocre courses live.
To be referred to as "just ok."
You're brilliant. You've got some raving fans. They deserve the best.
And so do you.
Here's how we get your students to say,
"OMG. This is so good! What's next?!"
BUSINESS AND STUDENT WINS
When your students win, your business wins.

We use

instructional design

to create actionable programs that get students into momentum, connected to the community, and seeing the transformation.
When your business wins, your students win.
We intentionally integrate
content that directly connects to ROI
: upsells, soft sells, and repurchase options. Adding in other custom processes like testimonial collection and course feedback metrics tracking takes this from good to great.
ENERGY IS EVERYTHING
The energy that we put into building your program is the energy that you feel during the recording process and the end user feels.
That's why we

hold the vision of your students' success

and have a lot of fun along the way. So without woo-ing out on you too much, know that we take responsibility for our energy and are here to support you in yours.
WHITE-GLOVE SERVICE
You are wildly in demand, which often means you're wildly under pressure and without time.
Our job is to help you feel relief and ease around your course creation, which paves the way for you to feel excitement and joy!
With a heavy emphasis on the DFY,

we provide a boutique experience where you're the priority.
NEURO-LINGUISTIC PROGRAMMING
Just because someone buys your course doesn't mean they're going to keep taking it. You have to continue to "selling" to them throughout the program.
That's why we have NLP practitioners on the team to

script key moments of your program to get your students unstuck

and into action. Your practitioner will also support you in delivery with unshakable confidence.
Actual stat of how likely our clients are to recommend us
That's why we use personality testing to get up to speed on how you tick, so that we can flex to meet your needs. Namely, we work with DISC, the Predictive Index, and Human Design.
Your mini team (designer, ghostwriter, and tech admin), led by Jasmine, will be fully prepared to work with you, because despite what others say, you ARE a special snowflake.
What if building a course wasn't a slog?
What if it was as transformative for you as your program is for your students?
Here's How We Can

Work Together
DONE FOR YOU
The Signature Course
---
Want to totally outsource your signature course?
If you're launching a new program or revamping a money maker, let us do the heavy lifting! We are a top-to-bottom course creation company! Much like ghostwriting a book, you talk and we turn your brain dump into a world-class course.
We create your irresistible offer, bangin' course outline, slide decks, deliverables, and even upload them into your course portal. From the first outline to the last video thumbnail upload, we got you!
DONE FOR YOU
The Encyclopedia Course
---
Ready for a robust, high-powered program with long-term support?
This is for the experts who want. it. All. You're looking for a partnership that will take care of every digital product detail, so that clients get results, repurchase, and refer… while you can do what you love and stay in your genius zone.  
While all of our clients receive custom onboarding systems, you also want offboarding and testimonial systems, an annual update, and even a bonus mini-course that you can choose to sell separately. 
DONE FOR YOU
The Micro Course
---
Want a micro course that upsells or crossells into other programs?
This is for the experts who want a digital product that you can use to ascend clients into bigger programs. These super high-value, very niche mini programs get students in a result in 90 minutes or less. (Note. This is not a webinar.)
Whether you're doing paid ads to cold traffic (and want to break even on the front end)... bundling your micro-course when you affiliate for your friends' launches... or even simply developing something that turns strangers into high-ticket clients, this is a great option for you.
Get to the outcome in a day
with Jasmine!
We'll knock out 1 big "Omg I just need to get this done" task on your course to-do list, so that you can step into doing what you really love... making sales and working with clients! You get to choose your own adventure as far as what you'd like to co-create!
Craft & Validate your Irresistible Offer
(aka what you're selling)
Map your Course Outline & Proprietary Framework
Plan & Automate your Course ROI Systems 
(how you onboard, assess, nurture, upsell, receive testimonials, and more)
Ready to partner with us on building your
world-class programs?
GRAB OUR SERVICES GUIDE BELOW!
What our Clients are Saying...
Rob Williams
Founding Partner, The Fielding Group
Catherine Wood
Unbounded Potential, Executive Life Coach
Jenny Evans
Speaker, Author, and On-Air Expert in Physiology, and Chemistry. As it relates to resiliency, confidence, and performance.
Damian Papworth
The Soul of Business Guide
Adrian Mamikonian
FASTer Way to Fat Loss
Which course platforms do you work with?
Do you have a referral program?
Grab our Services Guide!
Get the chance to book a call after learning all about our expertise in this guide!